How to recover lost keyphrase
How to recover lost keyphrase: Do you know out of the 18.5 million Bitcoin available, about 20% of it is lost or noted to be in stranded wallets, according to thorough statistics conducted by the firm Chainalysis?
Crypto wallets have been a means by which cryptocurrency attains its means of decentralization and security. Several developments like wallet addresses, complex passwords, and multi-factor authentication have been quite helpful in achieving this aim but don't guarantee enough safety.
This is where the recovery key phrase comes in. The key is the basic foundation through which other forms of security are achieved. Without these phrases, it's like you do not have a wallet.
Before diving fully into this discussion, it's wise to understand what a key phrase is, why it's been used, and what's composed of a key phrase.
What is a "Recovery Key Phrase"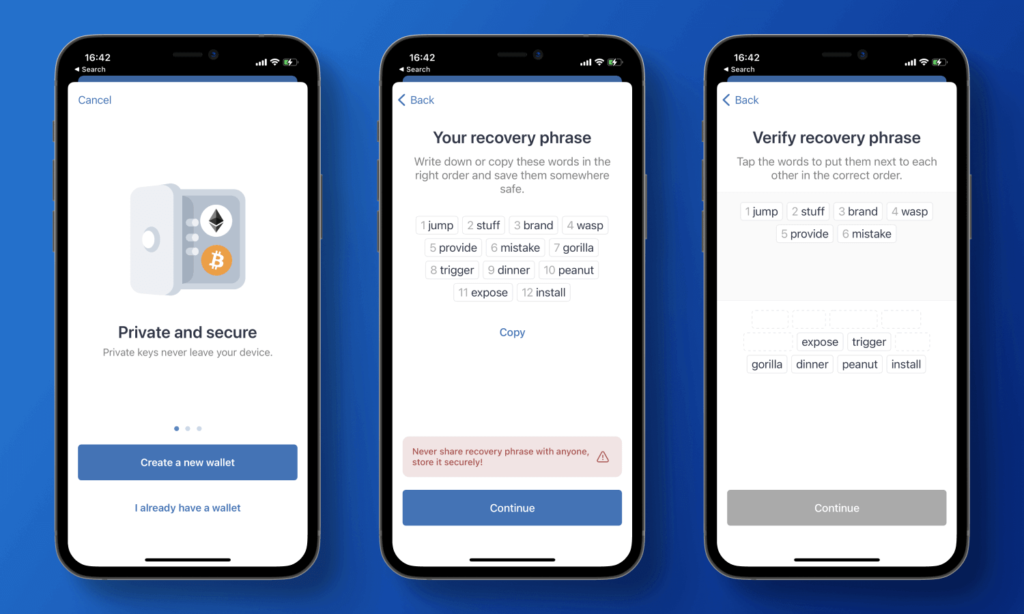 It's otherwise known as a "private key" or a "seed phrase." A recovery key phrase, just like its name, is a group or set of phrases to ascertain your access to your wallet.
It's an encrypted personalized secret access to your wallet only utilizable by you. The Recovery key phrase enables you to undertake various transactions on your wallet, such as transferring and acquiring various coins. Getting diverse coin addresses and, most importantly, helps you regain access to your wallet on another device if the former device is displaced in any form, such as being stolen, non-functional, or lost.
Seed phrases also vary across different wallets. Some seed phrases consist of 12 words, while others are 24 depending on the wallet chosen. These words are generated randomly to encrypt your wallet and designed specifically for the user.
It's important to note that the words shown are arranged in a particular way and expected to be written in that same order. These words don't make sense grammatically but, as said earlier, are meant to encrypt your wallet and are quite difficult to guess or bypass by any hacker.
The private key is always shown right after opening an account with the wallet. The uniqueness of the private key is because it's shown only once, and that's while opening the account (only in exception of some wallets like Trust wallet where you can check your recovery key phrase again via settings).
You are expected to screenshot, pen it down or find a suitable place to keep the phrase. Recovery of these phrases is difficult or nearly impossible to acquire if not kept safe. Some wallets do not support using a screenshot as it can be detectable to anyone and hence require other options in keeping it secured.
The essence of a Recovery phrase
The benefit of a private key is as follow:
Hack Proof: A major importance of the private key is the difficulty in cracking the phrases. The randomness in generating the words used in forming the phrases prevents the wallet from cyberattacks.
Security: The essence of the recovery phase is to ensure security. It's possible to hack through other feasible options in the wallet but never through the recovery key phrase. It's the strongest link for a wallet.
No third party: The phrases formed aren't of the wallet company's knowledge. They are generated randomly on computers and known only to the user, enhancing the wallet's security.
In response to the question proposed as the topic for this article, it's quite impossible to recover a lost key phrase. The best that can be done is if the user knows some key phrases. Recovery services such as cyberspac3 work with high-powered computers and professionals in recovering your phrase and accessing your wallet, but most times, it's a lost cause.
The new question in mind should be what can be done after misplacing your key phrase or disregarding the information then because you were not sure of its usage. There are 2 answers to this, and is as follow;
Create a new wallet: many wallet companies allow multiple wallet creation on their server, and each wallet comes with its private key. So if you've misplaced your previous key phrase for your main wallet, you can transfer your crypto asset to a new wallet with which you will have saved the seed phrase in a place that you can access after a long time.
Ensure the safety of your device: Another viable option that comes in handy is ensuring the safety of your device with which you have your wallet. This option is quite risky but might be helpful in that keeping your device safe is synonymous to access to your wallet since it's in use. The recovery phrase is only useful while accessing your wallet on a new device or opening a new account. However, if you already have an account, you don't need to access via key phrases but other secondary methods such as password or 2- factor authentications. It shows that once your device is in a good condition, so is your crypto asset.
Despite the idea about the inability to recover your asset once you've misplaced your key phrase, as stated earlier if you have an idea in remembering part of the key phrase, it's quite possible to help in recovering your key phrase totally and thereby accessing your account, visit https://cyberspac3.com/ and register to get started. We also engage in other services that you can check on our website cyberspac3 to file a case.