dApps: Best Tips to Recover from Decentralized Applications (dApps) Scams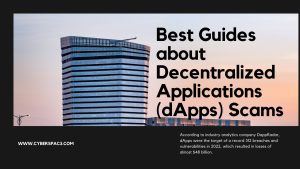 What Are Decentralized Applications (dApps)?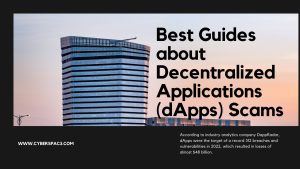 Software programs known as decentralized applications, or dApps, operate on peer-to-peer (P2P) networks of computers or blockchains rather than on a single computer. DApps (sometimes referred to as "dapps") are therefore not subject to the jurisdiction or control of a single body.
DApps are frequently developed on the Ethereum network. They were created for a number of uses, such as social networking, gaming, and money.
You can open a case with Cyberspac3.
Understanding Decentralized Applications (dApps)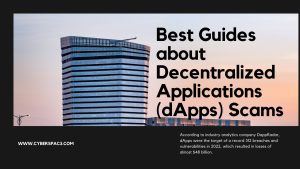 A computer system owned and maintained by a corporation that has control over the app's functionality powers the operation of a web application like Uber or X (previously Twitter). The corporation maintains control over the backend regardless of the number of users.
DApps can operate on a blockchain network or a peer-to-peer network. Applications that operate on computers connected to a peer-to-peer (P2P) network, such as BitTorrent, Tor, and Popcorn Time, enable numerous users to consume, feed, or seed content.
dApps are free from centralized authority control and intervention, operating in a public, open-source, decentralized blockchain network. An X-like dApp, for instance, might be made by a developer and placed on a blockchain, allowing users to submit messages. Messages posted on the app cannot be removed, not even by the developers.
You can open a case with Cyberspac3.
Uses of dApps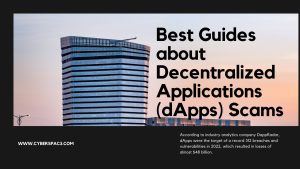 dApps are designed to do away with middlemen and decentralize a variety of operations and apps. Social networking platforms, multi-user games, and self-executing financial contracts are a few examples.
Additionally, DApps have been created to facilitate safe, blockchain-based governance and voting. Even web browsers can incorporate DApps as plugins to help with ad serving, user activity tracking, or cryptocurrency donation requests.
Some examples of practical uses for dApps include:
Financial services: Peer-to-peer financial transactions, including the transfer of assets and the exchange of currencies, can be made easier by dApps.
Supply chain management: To ensure accountability and transparency, dApps can be used to trace the flow of commodities across a chain.
Identify verification: For voter registration or passport applications, for example, dApps can be used to safely store and validate identify data.
Real estate: dApps can be used to track property ownership and associated documents like deeds, as well as to make direct real estate purchases and sales between buyer and seller.
Healthcare: dApps can be used to help healthcare workers communicate and work together, as well as to store and track medical records.
Education: By utilizing dApps to build decentralized learning platforms, instructors and students can communicate and work together directly without the need for middlemen.
Social media: By utilizing dApps, decentralized social media platforms can be built, enabling user interaction and content sharing without the requirement for a central authority.
Predictive markets: dApps can be used to build decentralized platforms for prediction markets, where users can forecast a range of subjects and possibly receive prizes for correctly predicting the future.
You can open a case with Cyberspac3.
dApp Scams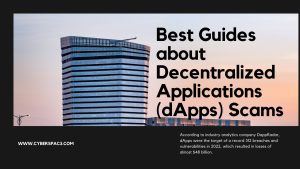 Through dApps, scams have been carried out. On dApps, there have been reports of Ponzi schemes, in which early investors are rewarded with the money from later investors to give the impression of large profits.
A new cryptocurrency or decentralized application (dApp) that the fundraisers have no intention of developing has been funded through the use of fictitious initial coin offers (ICOs).
On dApps, phishing attempts—which deceive victims into divulging personal information—have been observed. Phishing attacks use phony websites or emails.
Furthermore, certain dApps have been used to spread viruses or malware, which can infect users' devices and steal confidential data.
When using dApps, users should exercise caution and due diligence because the decentralized nature of these programs can make it challenging to find or prosecute offenders.
According to industry analytics company DappRadar, dApps were the target of a record 312 breaches and vulnerabilities in 2022, which resulted in losses of almost $48 billion.
You can open a case with Cyberspac3.
In Summary
Digital programs or applications that operate on a decentralized network as opposed to a single computer or server are known as decentralized applications, or dApps. They employ cryptocurrencies as a medium of exchange and are built on blockchain technology. Because dApps are meant to be transparent, open-source, and censorship-resistant, users can communicate with the application directly and without the need for middlemen. Because they enable peer-to-peer interactions and transactions without the need for a central authority, they have the potential to upend established sectors.
You can open a case with Cyberspac3.
Hire a Pro Expert
Selecting the ideal financial advisor for your requirements doesn't have to be difficult. You may find local fiduciary financial advisors in five minutes with Cyberspac3's free service. Each advisor has undergone a background check by Cyberspac3 and is required by law to work in your best interests. Get started right now if you're prepared to be paired with nearby experts who can assist you in reaching your financial objectives.
You can open a case with Cyberspac3.